ManUp Films is one of the more unique of the premium gay porn sites, specializing in a number of different fetishes – from cosplay to armpit sniffing – and covering them all in a high standard of production values.
Whatever Gay Sub-niche You Are In To Is Likely To Be Here
There are quite a few gay niche porn sites, but they usually focus on a particular kink, and to be honest, they are not always high quality, or have big names or great looking actors. Man Up Films is quite different. Not only is the quality superb, they feature some hot models too. This is impressive, given that some of the niches covered are very kinky indeed. The gay fetish porn categories you can find here include just about everything you can hope for, from cosplay to foot fetish to wedgies to…armpit sniffing? Well I'm not one to judge, and if that's what rocks your boat, there are at least 7 videos here at the time of review featuring a pervy dude getting off on sniffing the armpits of a buff hunk.
However, I would say that the majority (say around 70 – 80%) of the videos cover cosplay, foot fetish, domination/humilation, and wedgies. But given there are over 400 videos in their collection, there is quite a lot of other niche content too.

Updates Have Stalled During Lockdowns
The studio behind Man Up Films appears to be one of many that have been hit by lockdowns, disrupting the frequency of regular updates in 2020 and early 2021. As of the time of writing this review (Feb 2021) they are still updating around once every ten days. Besides, they already have hundreds of videos in their library covering a huge number of different gay kinks and sub-niches. It's also possible to purchase scenes individually.
The small sample of trailers below have been chosen as being representative of the content on the site.
Bartender Makes Clients Jerk Each Other For His Own Pervy Pleasure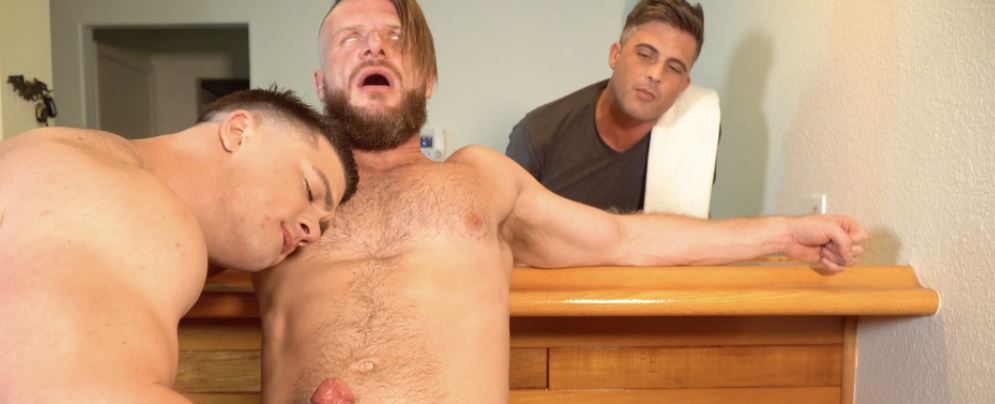 Two muscular straight dudes walk into a bar hoping to chill out and quench their thirst. They have a surprise waiting for them, because the pervy bartender doesn't serve drinks until the clients have jerked each other off! Features a lot of 'edging' where the guy is pleasured to an inch of ejaculation but is made to wait as long as possible.
Tony Orlando Is A Foot Creeper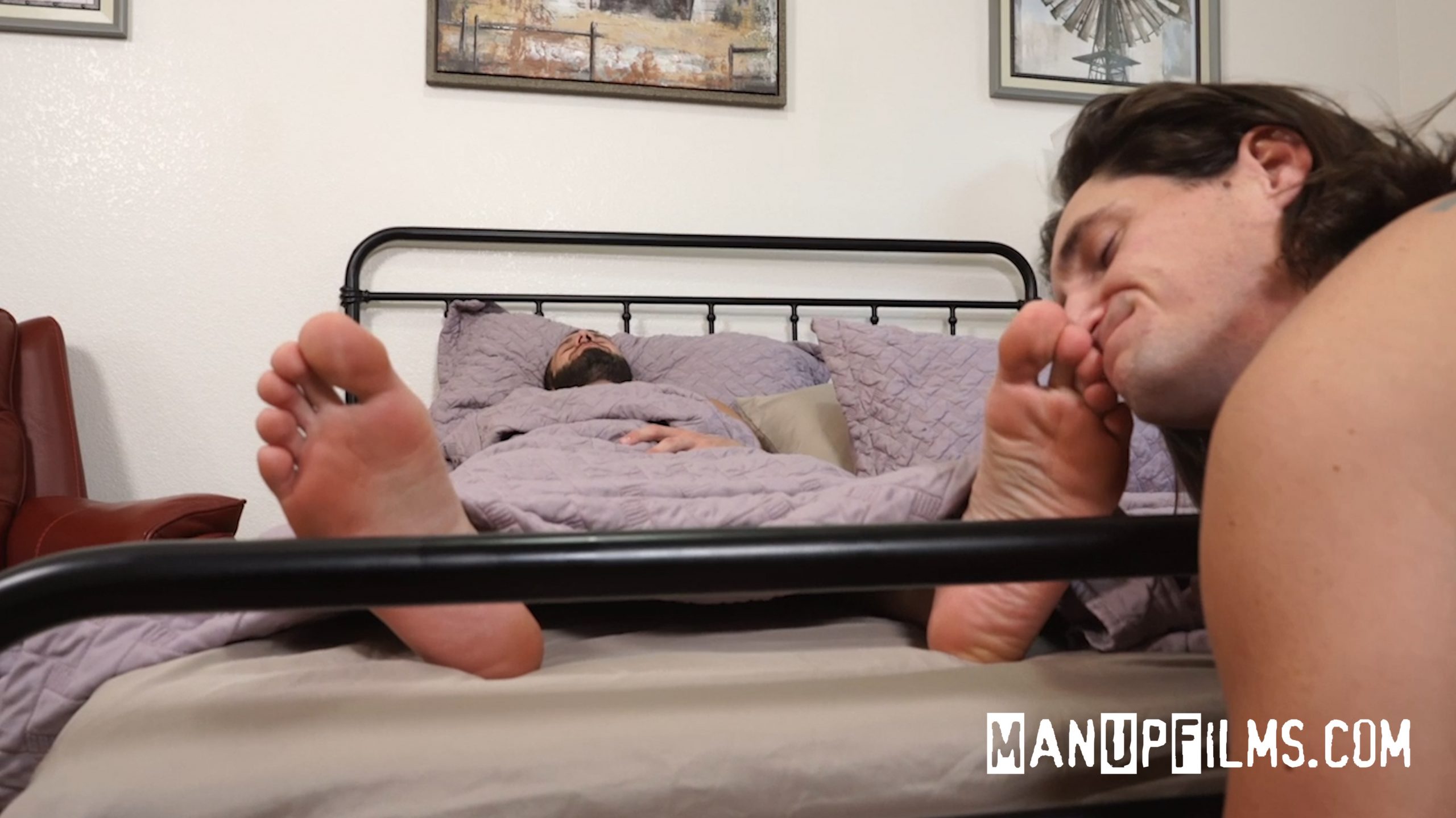 "Tony Orlando and Johnny Hill are roommates. Tony could smell Johnny's stinky feet from another room. He creeps into Johnny's room and starts licking and smelling his muscle stud roommate's feet. Johnny realizes what's going on and fucks Tony in the ass."
Another video that shows off the wide variety of kinky and fetish material at this site.
Pierce Paris Shower JOI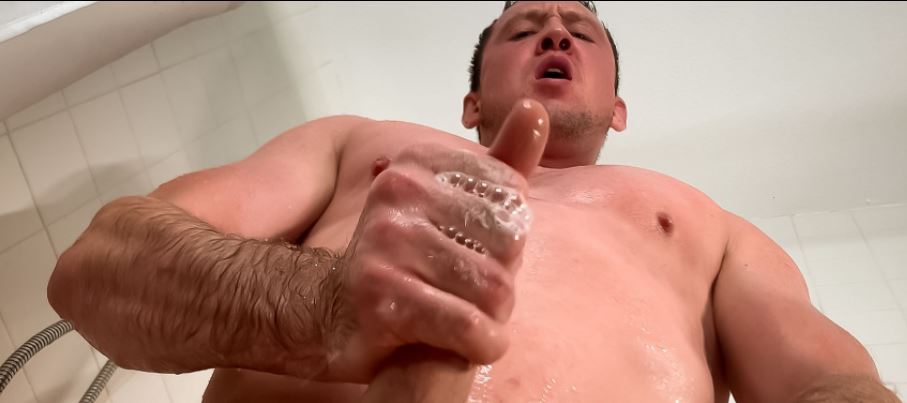 "You walk up on Pierce Paris in the shower. He notices you, begins to verbally humiliate you, then tells you to jerk off with him while he degrades you."
Buff dude Pierce Paris gives some verbal POV abuse to you after he catches you perving on him in the shower.
Superman Goes To Therapy Part 2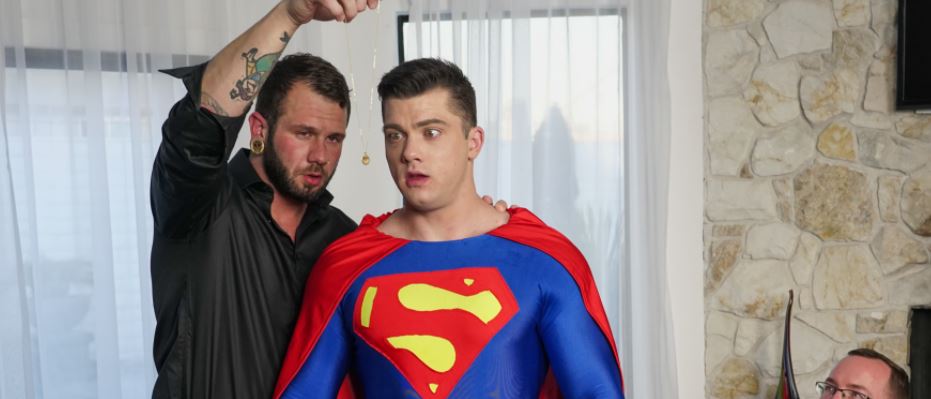 "Dr Hill and Alex Hawk have convinced Superman to come back for another psychic driving session. This time, the man of steel gets fucked in the ass."
Cosplay is one of the most popular niche categories at Man Up and here a gay stud dresses up as Superman to be banged hard in the ass by his therapist.
Final Verdict – Is Man Up Films Worth It?
If you are into kinky gay videos, then there isn't much better than this. That is either if you like kinky gay action in general, or whether you have a passion for a particular niche covered. You probably wont find another site featuring such high quality content in your favourite category anywhere else. Still updating at least once a fortnight despite lockdown problems, and with a huge library of well over 400 videos in a wide variety of niches. Subscription prices are excellent value – ranging from under $5 for a four day trial to just $75 for a year's membership.